Referencing and writing resources
Referencing and writing resources
FESS has been working with ETBI and eight ETBs in the development of a referencing handbook and an academic writing handbook for learners in the FET sector.
Referencing Handbook for the Further Education and Training (FET) Sector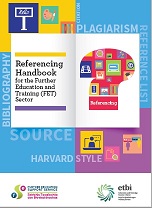 The full referencing handbook is available here
Where providers might like to compile a customised referencing handbook for their learners, the referencing handbook is available in sections below. It is improtant that learners all receive the information contained in the Referncing Handbook Section 1. The detail of how to reference each source from this handbook is saved as an individual pdf below.
Section of Referencing Handbook for Learners in the FET Sector
Writing handbook
The work on the writing handbook for learners in FET is ongoing and it is anticipated that it will be available for September 2019.